"Ada: Your health assistant" is the title of the Ada Health website. The company promises to help people better understand their own health and create access to personalized medicine. The core is an artificial intelligence, which is supposed to convince through an extraordinary high quality and thus made the app the number 1 medical app in 140 countries. With 8 million users and an average rating of 4.7 stars, my expectations are already very high.
First impression
After I have loaded and opened the app from the Play Store, a simple, white screen awaits me, greeting me and asking me to log in or register.
The only choices are Facebook or e-mail – I choose e-mail. After the registration I will be asked some questions about my person to be able to classify myself.

In addition to gender and age, people are asked whether they are smokers, have high blood pressure or diabetes. The whole process is very clear, because you generally only get one question displayed at a time.
Diagnosis and therapy suggestions
After answering the initial questions, you are immediately ready to start a new case, i.e. to enter your symptoms.
After you have entered your main complaint (e.g. abdominal pain) you will be asked many simple questions such as how long you have had the complaints, where exactly they occur etc.
The whole process is extremely simple and clearly arranged, you always get only one question with a few choices.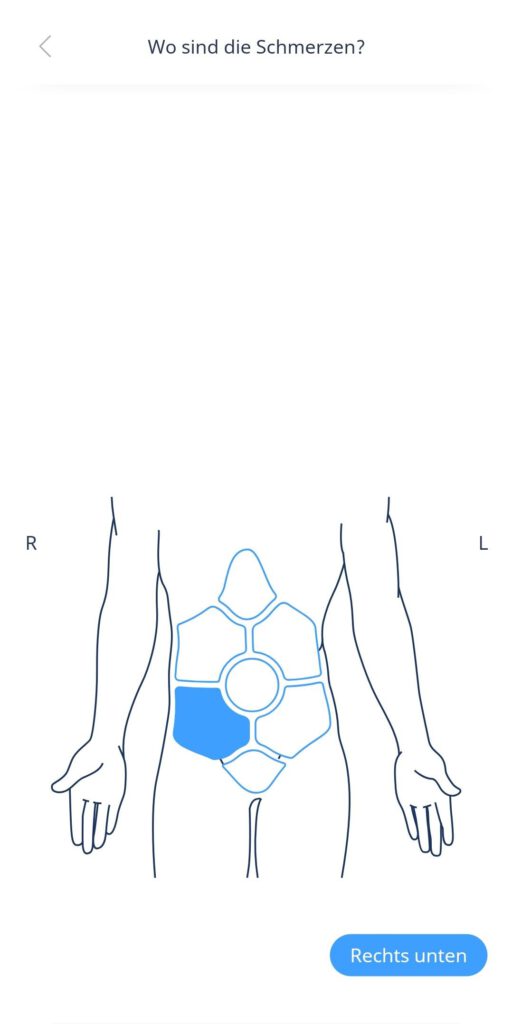 The whole process takes about 10 minutes until Ada is ready to tell me possible causes for my complaints.
You will receive a list of diseases and recommendations for action for each of the entries ("Visit emergency room"). In addition, you get a statistic how many people with the same symptoms have/had the respective disease. For each disease you will also receive further information and recommendations for action.
Since I am of course not a doctor, I cannot check the results. But to get at least an indication of how the app works, I give it to a doctor friend of mine so that she can enter typical symptoms from her daily work and compare the results with her own diagnoses.
The results of these small mini tests are absolutely impressive. The app never misses a mark – the doctor would have made all the diagnoses exactly the same way.
Conclusion
Ada is an exciting piece of technology that has become the number one medical app in 140 countries.
It is beautifully designed, the operation is extremely user-friendly and the results seem absolutely accurate.
The app does not replace a visit to the doctor, but can be a companion to get first indications of what might be wrong with you. It also helps to confirm or exclude suspicions about diseases.
If you have no problem uploading your personal health data to the servers of a company, Ada is a great companion for personal health monitoring.